How to make Fun PDF Ebooks on a PC with WORD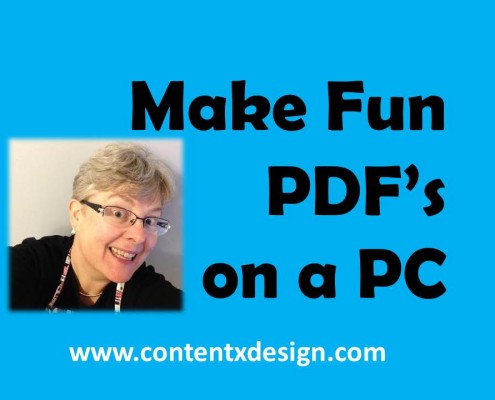 Are boring PDF ebooks making you frown?
You are in the right place! Learn how to quickly make AWESOME & Engaging PDF Ebooks on a PC with WORD
The key to creating FUN ebooks starts in your WORD program. After all, the easiest way that I know of to create a PDF is to make a word doc and use SAVE AS to save the document as a PDF.
Easy. Free. Nice! 
So now you just need to figure out what you can do to make your WORD doc look AWESOME, so that your Ebook looks awesome and fit your style- or your biz style.
There are many, many ways that you can jazz up your word doc. Here are a few ideas to help you. Feel free to mix & match until you find a great "look" that you just LOVE:
1. Use the Header & Footer features on your Word doc to give each page a consistent look & feel. You can choose from a wide range of type styles or create your own signature Header or Footer by adding an image in the header or footer area.
2. Use a clear & easy to read font for your ebook, in size 12 or 14.
3. Add your copy and images the same way that you would when creating any document.
4. Re-Size the percent of your document (in the lower right corner of the page) so you can "see" more than one page. This will give you a better feel for the overall look of your document and ebook.
5. Use a border around the edges of your content- to make your ebook POP!
So take one, two or more of these suggestions and make your next ebook Awesome!
P.S. Are you the kind that learns best from lots of videos & screenshots?
Consider our self- paced e course "DIY Awesome PDF E-Books!
Click HERE for more information (coming soon! )